Dear Sun Valley Community School Families,

"I have learned over the years that when one's mind is made up, this diminishes fear; knowing what must be done does away with fear."
-Rosa Parks

As you probably know, there are multiple confirmed cases of Coronavirus in the Wood River Valley. Disconcerting, but certainly not unexpected. News like this can be a crucible, a test for each of us to see what we are made of and a marker to measure our sense of community. I am confident that our community will rise to this occasion and pass this test with proverbial flying colors.

According to most public health and government officials, we are past the point of containment of the virus, and our efforts should be focused on mitigation and flattening the curve for our medical professionals and patients who do become or already are critically ill. The graph below illustrates the impact of taking mitigating actions to slow the spread of a pandemic.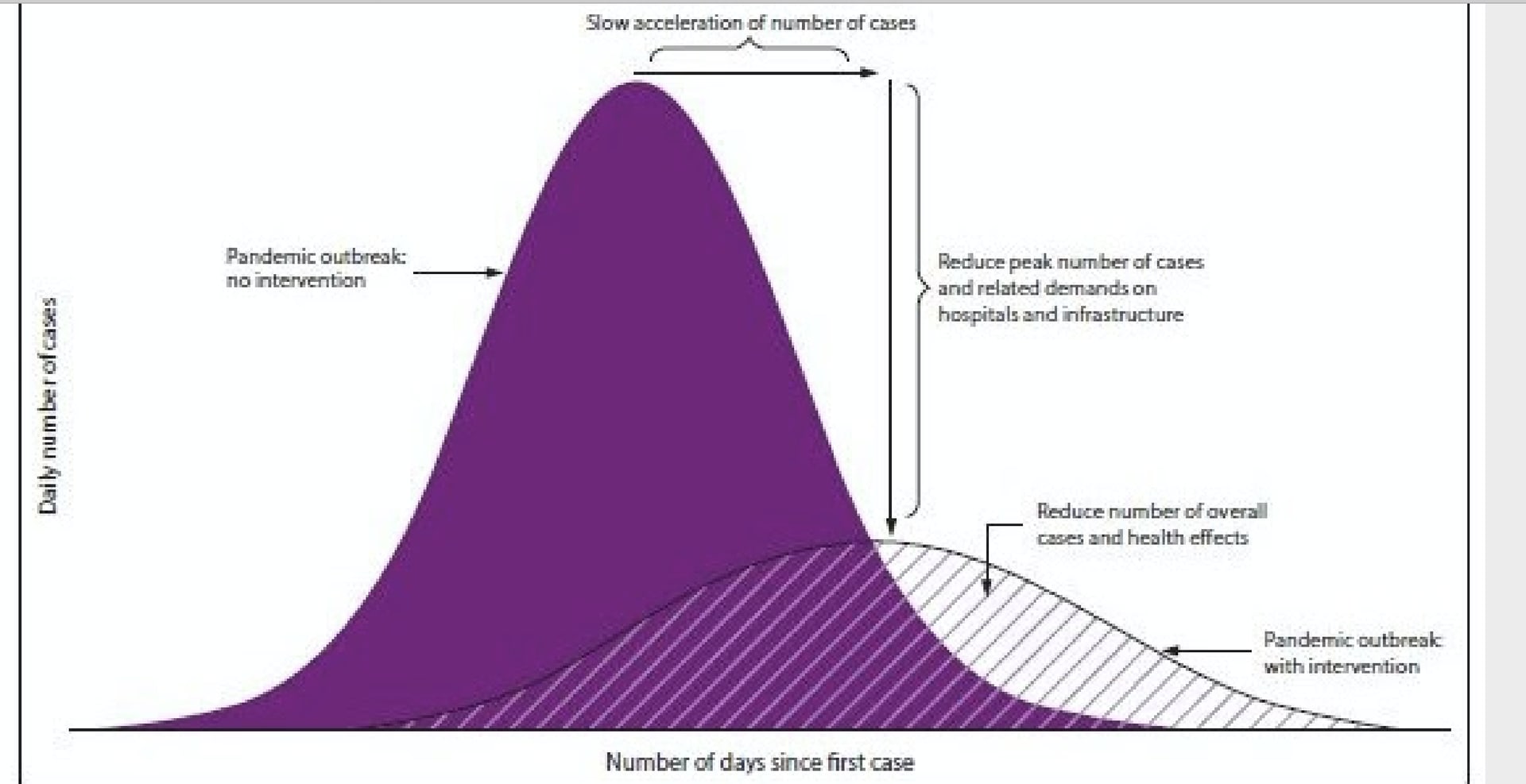 As more cases become known in the valley, which is likely, St. Luke's Wood River and the South Central Idaho Public Health District will identify vector points and communicate with those known to have interacted with the individuals who have been diagnosed. It is also likely that members of the school community will be diagnosed (none have been yet), and that people we know and love here and globally will be exposed to or diagnosed with the virus. The school will not be sending out specific updates independent of public health officials, but we will share what we can when permitted to do so. The school will remain focused on providing robust educational experiences and resources for our students and families.

To rise above the challenges of this time means rising above our own fears. Spreading rumors and scapegoating are easy, but it does not serve us to go down that path. Instead, please see how you can lend a hand, volunteer, and support. Rather than ostracizing those who are affected by Coronavirus, please join us in rallying around them (metaphorically) regardless of whether they are part of our school or the greater Wood River Valley community. Never before has it been so important to live up to our name, Community School. And while doing what you can to give back and build community, please follow good social distancing and prevention practices to do your part to mitigate the spread of this illness.
Thoughts on Remote Learning
Our faculty and staff members are working diligently to provide your children with valuable and consistent remote-learning programs Wednesday, Thursday, and Friday, and perhaps longer-term following Spring Break. Again, we will make that decision on or around March 30.

We met today (remotely) to train, iterate, and plan. So far, the biggest challenge we have faced in the remote-planning process is missing our students. I have encouraged all of the faculty to practice patience, creativity, and flexibility as they focus first on the why of their teaching, then the how, and finally, the what as we learn how to best deliver on remote learning. I have also encouraged our teaching team to avoid the trap of perfectionism. Perfection is an illusion. Adaptation and innovation are real. We know there will be challenges with devices, software, home networks, family logistics, and much more. So again, we must practice patience and clearly, simply, and consistently communicate as we create this new programming together. I have asked everyone on staff to "embrace the shake," which was inspired by this TED Talk by artist Phil Hansen. I ask each family and student to join us in upholding these values and "embracing the shake" as we enter into this grand experiment.
Tuesday, March 17
We want to offer students and families in all grades (ECC-12) an opportunity to come get important items and personal belongings from your lockers or cubbies. Please make sure you clean out any food! In addition, each Elementary student (K-5) will have a grocery bag labeled with their name containing materials and needed resources in the ES Community Room. There will also be items for Middle School students who were absent or made requests for specific technology resources last week near Yvonne's desk; look for materials labeled with your child's name. The Trail Creek Campus will be open Tuesday from 9:00 a.m. to 3:00 p.m.

This scheduled time is for you to have quick access to your locker, cubby, or classroom, collect any remaining personal belongings, and pick up any necessary school materials. We want to minimize your time on campus, so please do not use this time as a social gathering. Please observe social distancing practices while on campus. Finally, please wash your hands and/or sanitize before and after coming onto campus.
March 18 - March 20 and Communication
On Tuesday, March 17, you will receive a division-specific letter from Janet, Sam, or Kevin with details and expectations for remote learning in each part of the school. We have also created a Remote Learning page on the website at the top of each portal (Parent Portal, with links to come on the Student Portal and Faculty Portal). The portals are password protected and you will need to log in to view. Hopefully you've been logging in throughout the year, but if you need help logging in, contact the administrative assistants in your child's division (Robin, Yvonne, Jill). This page is still under construction and will be ready on Tuesday, March 17 by 5:00 p.m. Below is a screen grab of what the Remote Learning section looks like. Once you have logged into the portal, click on your child's division to see an accordion menu of teachers or grade levels.
We encourage you to check the remote-learning web page daily after 5:00 p.m. for the duration of the week as we learn, adapt our systems, and add resources. You will be able to find detailed information about the remote-learning plan for each grade and division, while also exploring wellness resources and other resource materials regarding the Coronavirus situation. To help us enrich the content on this page, we invite you to share helpful resources, articles, podcasts, and more by sending that information to one of the following:

rl@communityschool.org - for all remote-learning resources and best practices
cv@communityschool.org - for all Coronavirus medical, mitigation, and prevention updates and resources
wellness@communityschool.org - for all psychological and wellness resources and tips

We appreciate that so many of you have shared resources already, and we ask you to use these more generic email addresses going forward so we can create a single space for shared materials, while not overwhelming individual faculty, staff, and administrative inboxes. We will curate these resources and add them to our resources page throughout the week.
Remote Learning Feedback and Iteration
We will be collecting faculty and student input on our first iteration of remote learning on Wednesday in real time as we find out what works and what doesn't. We will also send a form out on Thursday asking for parent feedback on the remote-learning experience. Please give us your thoughtful and constructive feedback by the end of the day on Friday, March 20 so that we can best prepare should we need to continue in the remote-learning system for a period of time after Spring Break.
Disconnecting
It is important that we remember to disconnect as adults and children from technology during this time where technology is being used as such a prominent tool for teaching, learning, and communicating. Please consider moderating screen time, think carefully about emails, and be judicious about texting. Make time for human connections, making and taking phone calls, and greeting your neighbors and friends while out for walks. The psychological impacts of human isolation are profound. Find ways to connect safely, even through technology, to maintain those broader relationships in real ways. We encourage you to cook and eat as a family; exercise and see the sun; clean and do chores around the house; if possible, support local businesses and nonprofits in the valley who are supporting our community; play games; do art or read; play or listen to music; and yes, occasionally still enjoy your favorite show, podcast, or movie.
Connecting
When you do go online, please share with us and the rest of our community your remote learning highlights, what you're doing to cope (all the books you're reading!), and other gems by posting pictures and videos to Facebook and Instagram using "#CutthroatsTogether" and tag us @communityschool. We may not be able to be together as one, but we can share our experiences throughout the process.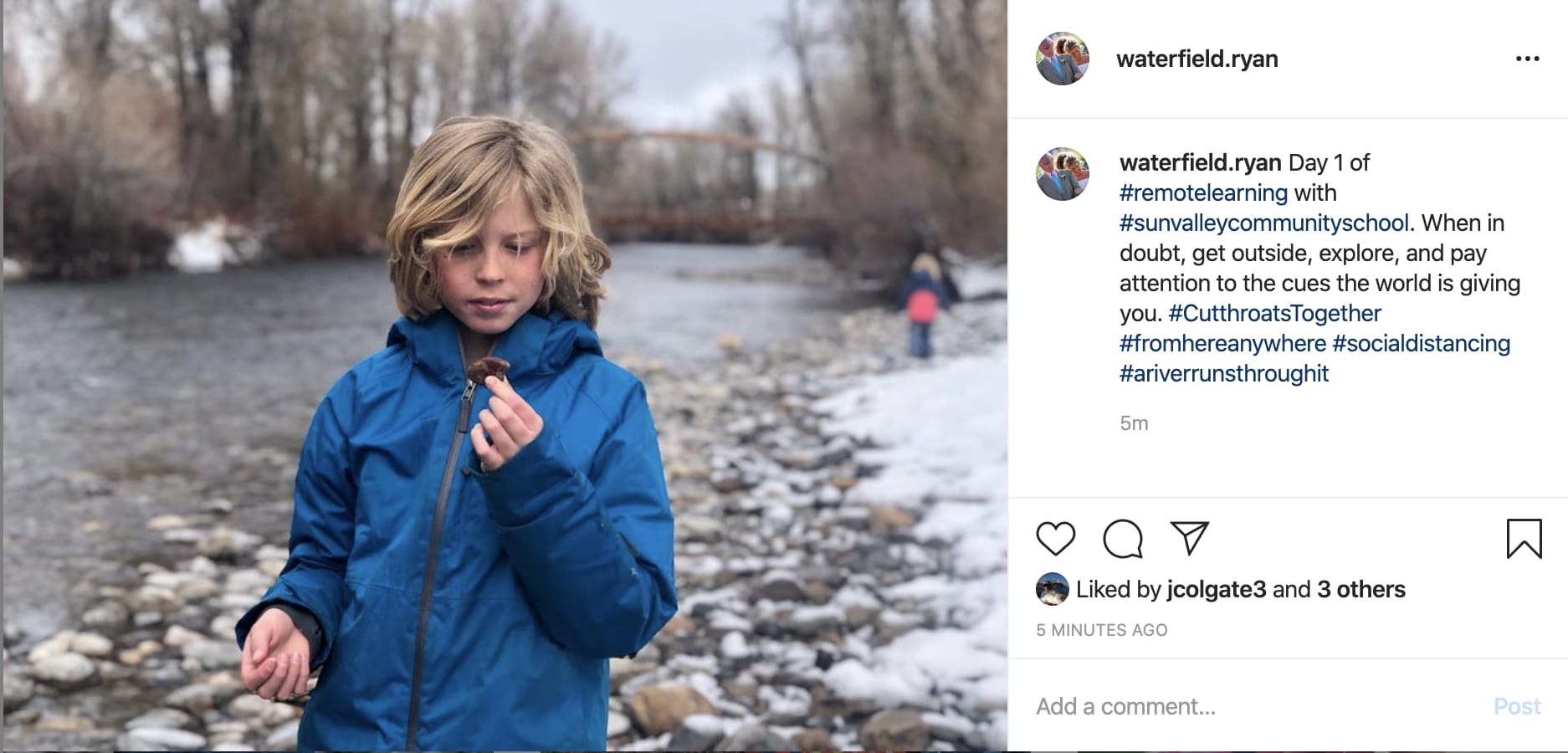 Final Thoughts (for today)
I know our school community will embrace the challenges we are facing as we "make up our minds" and do "what must be done." With that purpose and focus, as the indomitable Rosa Parks said, fear is diminished. Yes, these are uncertain times we have ahead and our days will look and feel different than what we are used to. We can take this as an opportunity to reset some habits and form better patterns and stronger bonds. Our collective resolve to get through this together will sustain us, and perhaps, improve us. Our community, even if we cannot gather as one, is strong enough, supportive enough, and nimble enough to thrive in the face of these challenges.
Sincerely and with appreciation,
Ben Pettit, Head of School